Click on a picture to shop for your favorite people!
Shop by Recipient
Fake Customer Pictures. REAL Reviews.
Honest Feedback from Happy Customers
Check out our blog for fun gift ideas
Gift Blog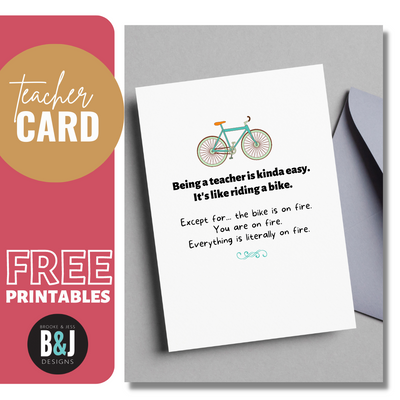 Let's be honest... Being a teacher is not easy like riding a bike. Unless the bike is on fire. You are on fire. Everything is literally on fire. Plus, teachers don't get paid near enough for all that they do.
When our kids were forced to be homeschooled during the pandemic, Brooke and I gained an even greater appreciation for teachers and all they do. It's probably part of the reason we create products to celebrate teachers. We also realized quite quickly we are not cut out for homeschooling. Props to all of you out there who do.   
I created this card as a fun way to show your teacher some extra love. They get showered with gifts during Teacher Appreciation Week, Christmas, and end of school; so why not give them a fun card in the middle of January. 
The download includes 5 x 7 inch and 5 x 5 inch size cards as well as instructions. We recommend high quality cardstock or other paper and the "best" or "photo" setting on your printer.
Let us know how it goes. We hope it brightens their day and puts your kiddo one step closer to teacher's pet (that was mostly a joke, haha). 
-Jess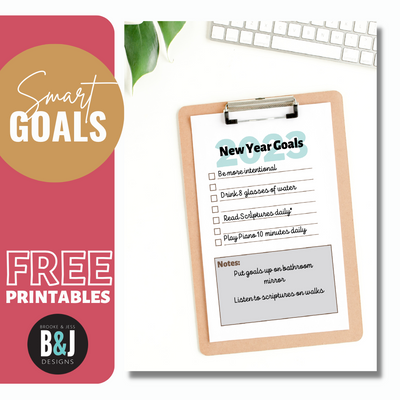 First off, Happy New Year!
Who has a list of New Year's Resolutions started? I always tend to go a little too big on my goal setting, only to fall off the bandwagon a few weeks into the year when I falter - all or nothing much? I hope I'm not alone in this! :)
Have you heard of SMART goals? It is a pretty awesome way to set goals. It helps you set more attainable goals with a plan on how you accomplish them. We are going to have a family night of goal setting, so of course I had to make a few printables. LOL.
1 - The first printable is a place to document your goals. Plus, an area to make any notes or advice you may need to tell yourself. But make sure you look over sheet #2, the SMART guidelines before you solidify those goals.
2 - The second page is an explanation of what SMART stands for. It will guide you through the process of setting more attainable goals. So helpful!
3 - Sheet #3 is full of little notes that you can write your goals on and place around the house for encouragement and/or friendly reminders. I'm thinking bathroom mirror, nightstand, car, work area, etc.
I hope these printables will help me (AND YOU) be more successful this year,  and everyone cross your fingers that I'm still working on then in February.  If you have any tips or tricks for us, please message us!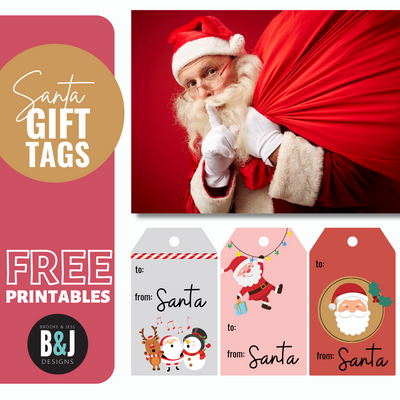 I love the magic of believing in Santa. We try to keep the magic alive as long as possible. Our (Brooke and I) youngest kiddos turned 6 this year, so we will only have a couple of years where someone in the house still believes. I try really hard to buy different "Santa wrapping" and write on gift tags with my left hand so they can't figure it out. I know it's silly, but it's what I do. I'm also somewhat of a procrastinator, so almost every Christmas Eve, I'm frantically creating and printing out tags from Santa, so the believers don't recognize that Santa and mom have the same handwriting. Anyone else crazy like me? 
Anyways. My goal this holiday season is to stay ahead of the game an make it a more peaceful, low stress season. So far, I've gotten a majority of my shopping done, Christmas decor is (mostly) up and I have neighbor treats planned.
I also created Santa tags early this ear, so I'd share them with y'all.  It's a fun and easy way to make Santa gifts a little more special for your little believers.  Simply download here, print, cut, attach, and wahlah...Santa's Signature gift tags. Happy wrapping!